A Free image and photo editor for today's review will be
Paint. NET
which is developed on the .NET Framework. This software is an open-source freeware editor and now enters the new Paint.NET version 3.08. Although it is a freeware, it has much more essential graphic tools for a pro compared to the average image editors.
As we all know that average image editors which are free tend to have limited tools for further graphic manipulation. We might think about basic image editor tools such as: resizing, cropping, rotate/flip, and other standard image editor to adjust exposure, sharpness and color or some few sort of pluggins to create decent photo retouch. Well that kind of software not even close to Adobe Photoshop for a pro graphic designers.
Paint.NET is light graphic software that supports the most image formats (JPEG, PNG, GIF, TIFF and other) but yet it is powerfully enough as you can create layers. Paint.NET also supports actions manager, and unlimited undo thru out your photo editing process. Special features such as clone stamp, Lasso, Select, and Magic Wand are also included.
Some comments delivered to this software said that this software is much better than Microsoft Paint.
This Paint.NET latest version (3.08) has been improved better than the previous version Paint.NET v 2.5, Paint.NET v 2.6, and Paint.NET v 3.0 which released MDI (multi-document interface) to make easier multiple image editing. The interface and the panels are semitransparent, equipped with a tab strip in the upper right corner of the main window. Much convenient for any skill levels who wants to have fast result for image or photo retouch but relied on high end features tools.
The installment files 1.36 MB in size; it requires Windows XP / 2003 Server / Vista, and Microsoft.NET Framework 2.0.
Users are mostly commented on how unpleasant to have such relatively small size file installment of this terrific graphic software when you still need to download the Microsoft.NET Framework 2.0 which has 22MB file size, unless you have a faster internet connection to establish that kind of platform.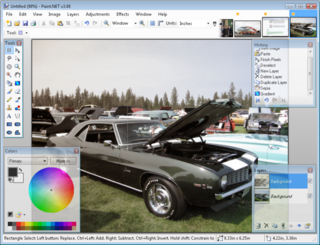 Bigger viewFurther Readings: