When it comes to do the illustration or design search for your inspiration, sometimes search engines just provides you enormous list. But I wonder if any of you know that some of Blogspot Bloggers are actually dedicated their time to build interesting design showcase for your eyes! Such of hidden treasures I found for this lovely weekend.
These blogs are pretty new, some of them even started on November, and here comes the parade:
Photoshop Heaven
Poerty
is the author, and used to write his blog "Photoshop Heaven" in German, but I believe you can now read the posts in English also.
Started in June 2007, Poerty presents you short reviews on some photoshop designs of another artist and his own artworks. Wonderfully sorted of digital imaging designs and breathtaking photos edited by profesional Photoshop artist.
Check out
Poerty's Blogger profile
, and it is no surprise that he or she is also a great
deviant*
;)
Aw...I will also introduce you his or her site,
Photoshop Heaven.de
where you can download classic style free photoshop brushes, and tutorials
deviant*
= a term used for the member of Deviantart.com
Blastyle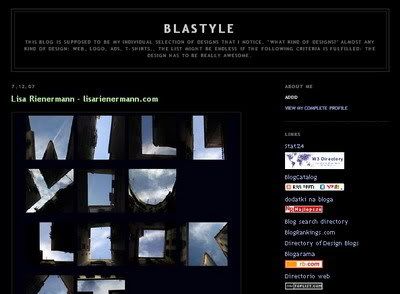 ADDD
, is the author of this blog described Blastyle:
This blog is supposed to be my individual selection of designs that I notice. "What kind of designs?" Almost any kind of design: web, logo, ads, T-shirts.. The list might be endless if the following criteria is fulfilled- the design has to be really awesome.
Ow ya, the design showcase really is awesome. I like how Addd picked wide range of designs showcase, from illustration to typography style and even painting. He wrote short descriptive reviews on great posters from different artist.
Check out
Addd's Blogger profile
and being published for the first time in November 2007, this self domain hosted Blogspot Blogger worth to visit!
Illustration Design Blog
It is built and run by the members of the
Graphic Design & Illustration Forum
A forum where you can sign up to talk about Graphic Design and Illustration with other Designers.
This blog is built to showcase some of the best Illustrators, Illustrations and Vector Graphics from around the internet and in the Illustration Design World.
Started in August 2007, Illustration Design Blog has tons collection of inspirational list of graphics and artworks from extraordinary designers. Actively updated, don't missed out their latest post by
subscribing in feed reader
.
The complete lists are outstanding, but unfortunately I didn't find few words of review for each design poster. I think, a blog should create such dialogue with its viewers, hope that the admin would consider this in the future ;).
Do you want your Blogspot Design Showcase being reviewed here also?
Submit your blog under these terms:
Your blog has to be graphic design or visual art related (paintings, graffiti art, urban art, photography, web design, manga drawings etc.) that contain listing of another designers project or even your own gallery portfolios.
Highly updated, and each post has one or couple lines of review ;).
Your blog must be new or classic Blogspot Blogger.
All blog will be checked before accepted and published. If your blog fits the criterion, you will get a notification via email.
Just contact me if you're interested, and don't forget to include your: blog description, author bio, and screenshot to my email at: kukuhumi [at] gmail [dot] com :p.
Graphic Identity
is PR 3, so if your blog is quite new, you can have the link love from my blog to help increasing your blog page rank.