I always fascinate to abstract paintings. I found sort of well mixed medium of abstract paintings collection of
Collin James De Ruyck
, and I'm also amazed how he lined up the geometric shape and colors to create 3D texture effect. I should call it: "
Decorative Abstract Paintings
"
Somehow each of them can be part as an interior decoration. His abstract art works are able to bring a boring plan room to a very exciting room filed with great colors and style.
Here a short conversation about his artworks that might give you a clue about his paintings ;).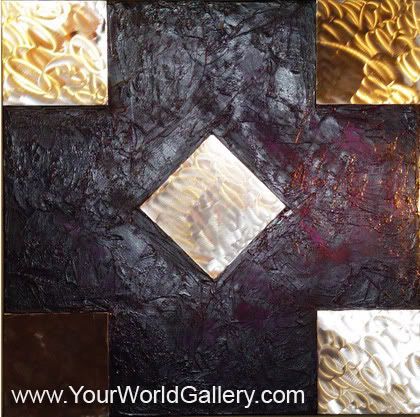 When did you first start painting?
I first started painting in 2003. It was after my x wife moved out and took all the furniture and I had nothing to look at buy bare walls. I was talking with a friend of mine who pushed my to start painting as he told me what I was looking for from art did not really exist, which is the style I currently use.
Who and what were some early influences?
Like I said in the last question, it was a good friend of mine named Rohn who helped me get started at a very tough time in my life.
What does your current practice (artworks) consist of?
Right now all I do is abstract, with stainless steel but I plain on getting into welding in the future to bring a more 3d effect to my paintings and really make them pop! I also want to try sculpting with stainless steel.


Where do you draw the line between painting and fine art, both
generally and in your own practice?
Well I am not to sure what you would class as fine art really. To me if I fall in love with a piece, then its fine art. But if there is a class called fine art, I am not in it and with all the amazing artists out there I hope no one ever calls my art fine. They need that class way before I do.
Is there a preferred medium that you utilize? Especially for the fine art.
I use acrylics mostly combined with stainless steel on canvus.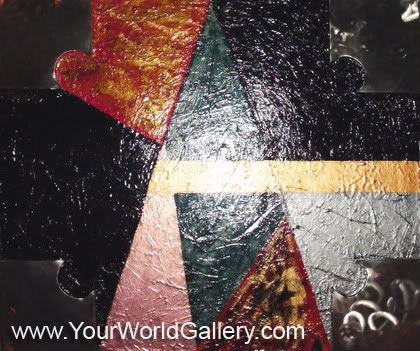 What is your favorite project that you have worked on so far?
All of them but the one I call "Waiting" was the funnest for me because I can't draw and most people who look at it can tell its a women sitting down. I cant wait to try another one like that.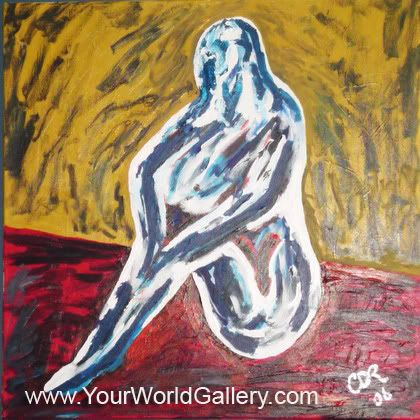 What path have you followed to become a full-time artist?
This is going to be a short answer; I am not full time but would love to be someday if all goes well.
What are some contemporary influences?
Don't really have any influences at this point. Everyone has there own style, and there is a lot of amazing artists out there with talents I could only dream of having. I just hope that maybe one day my skills can improve and maybe sell some pieces I have done and bring a smile to someone's face.
If you like the art you see here, most pieces are for-sale. You can send him email if there is something you would like to see made just for you at:
collin_deruyck[ at ]yahoo[ dot ]ca
Thank you so much, Collin! It was a pleasure diving into your experimental abstract painting. Good luck for you!