What a lovely Sunday morning..... as I continue another series of Blogspot Design Showcase.
Today's gallery is to showcase 5 Artistic Graphic Designer's Blogs. Unique layout composition is what make them stand out. Each of them is presenting creative graphic design masterpiece work of talented hands.
Relax and Enjoy!
The Blog of Doug Cloud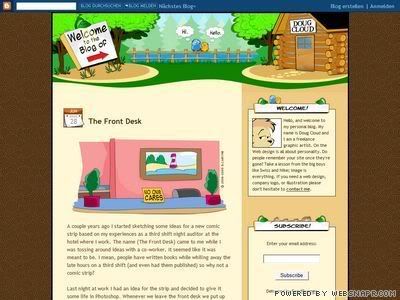 Designed by Doug Cloud. He is a freelance graphic artist. You will see cartoon illustration style everywhere on his blog. Interesting stuff because he also starts series of Drawing Lesson using Photoshop and Illustrator. Another thing that I love from this blog is the Comic Strip category. You may need
subscribe to Doug Cloud's Blog
so you won't miss the next drawing lesson and comic strip post!
Scrutiny ground
Designed by
Fayaz
. Fayaz continues to develop amazing new Blogger Blogspot templates and this "Scrutiny Ground" blog is where he tests the web interfaces and stuffs. You are free to download and use the templates from this blog. I love the greeny look on the header design of this blog and overall it is so fantastic!
BLOG AMUKI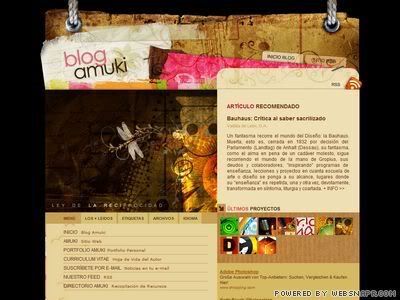 Authored by Vanessa Alexandra Zúñiga Tinizaray, a profesional graphic and web designer from Ecuador. BLOG AMUKI is creatively brought to you in a very complex grunge vexel theme design. This blog is quite informative to me thou I don't understand Ecuador language. BLOG AMUKI has been frequently updated with resourcesful post of round up links containing graphic and web design related posts.
Misery Loves Company
Brought to you by Ahyrheynne. She is a 19 year old multitalented artist! You will find nice skethces and lots of graphic design tutorials in this blog. The header looks impressive. She did a nice photo editing effect of her self-potrait for it. Go PINK girl!
Electric Itlog
Designed by Keeto Obcena [Studio+Nitr8]. Simple header with vector image on the left, and dark motifs background behind the transparent content layer, simply send a visual message to the viewers: "Less is More".
Related Post: