Are you looking for Blogspot graphic design showcase carnivals? I came up with three blog resources. These blogs are offering different kind of stuff. You're going to love their design freebies and excellent articles :).
One of them is actually featured by request. If your design blog is in Blogger Blogspot platform, and you want it to be featured as well, you can contact me by email at: graphicidentity.blog@gmail.com
Chill out :D and let me present you the Blogspot Design Showcase - Part 2
box 313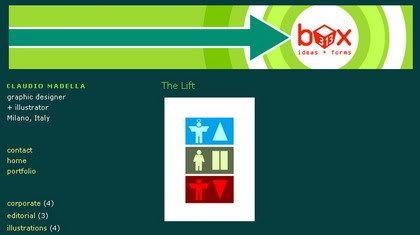 Claudio Madella is the author of Box 313. A graphic designer and illustrator from Milano, Italy. His design is almost urbanist in style and brings the sense of modern look. Box 313 is also his portfolio gallery, sort of design projects collections are available to download in PDF files.
Join
Box 313 BlogCatalog neighborhood
now!
consonantal..
She is :
a web junkie and want to share things that I like with you. Just check it! She hopes you can enjoy..:]
As an art Student, I see her freebies as extraordinary pieces of art. She made cool icons set and pattern to download for free.
Visit her gallery at
deviantART
to find out more about her design creation.
You can join her community at
Consonant BlogCatalog neighborhood
.
Jeff Fisher LogoMotives
The first post was in October 2005, so it is obvious that this blog has been there for a quite periode of time. Frequently updates and maintained by Jeff Fisher, the author of
Identity Crisis!
: 50 redesigns that transformed stale identities into successful brands. He has received over 575 regional, national and international design awards for his logo design efforts. His work is featured in nearly 100 books about logos, the business of design, and small business marketing.
You can find huge links and articles resources about logo design in this blog.
Check out
Jeff Fisher's BlogCatalog profile
to join the blog neighborhood.
Do you know any other Blogspot Design Showcase that I can visit to? or you simply want your graphic design blog topic to be featured also in Graphic Identity blog. Please feel free to comment, or email me at graphicidentity.blog@gmail.com.

If you like this article, you can
subscribe in RSS feed reader
or
subscribe to Graphic Identity by email
Related Post: