I'm coming back with another font review, and don't be so surprised since this post is closely related to my previous font review:
6 Free Graffiti, Grunge, and Destroyed Fonts
.
I think I'm addicted to dig any kind of font that looks ruin apart, dirty and destroyed ;)
Junko's Typewriter
By:
Junkohanhero 2006
Site:
Junkohanhero.com
Free for personal use
Junko's Typewriter reminds me to an old typewriter, because the baseline of this font is not inline or unordered. Not much textures, but pretty solid in each character. Classic shape of terminals and serifs definitely make them different than any other typewriter fonts.
Uncle Typewriter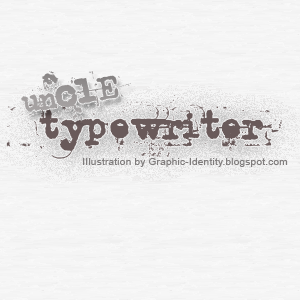 By:
Typo 5
Site:
Typo5.com
Free for commercial or not commercial use
Eroded and dirty at the first look, caused by font's characters texturized background. Most of Uncle Typewriter fonts are in small caps. Capitals letters are available only for D, E, and M characters. Some fonts are so much destroyed and hardly to recognize (e, c and o)
Typewriter from Hell
By:
Jakob Fischer
Site:
Pizzadude.dk
Free for non-commercial use only
Every Typewriter from Hell font character has a unique and uniform texture. There is some kind of cracking font or a result of digital plastic wrap filter. No textures in every font's background. You will see pointillism effect if you use smaller and medium font size.